Thanks for dropping by. This site exists to compliment the work and ministry of First Rathfriland Presbyterian Church. Please take time to browse the site or better still come and pay us a visit at Newry Street, Rathfriland. Read more...
Sunday Morning Family Service at 11:30am conducted by Rev Trevor Boyd. This Sunday, 23rd December 2013, we study Luke 2:8-21. Sermon: Luke at …the Shepherds
Sunday Evening Carol Service at 7:00pm conducted by Rev. Trevor Boyd. Please come along.
---
Our Mission Plan
Jesus said, "A city on a hill cannot be hidden… In the same way, let your light shine before men, that they may see your good deeds and praise your Father in heaven." (Matt 5:14+16) Read more...
---
Listen to the sermons
An opportunity to listen to the sermons conducted in First Rathfriland Presbyterian Church. Listen here
---
Latest News & Events

December Services
15th @ 11:30am Luke at...the Angelic Messengers
15th @ 7:00pm Christingle Service
22nd @ 11:30am Family Service...the Shepherds
22nd @ 7:00pm Carol Service
25th @ 10:30am Luke at...the Birth
29th @ 11:30am Luke at...my Family Tree
29th @ 7:00pm No Evening Service
Cardiac Defibrillator
A cardiac defibrillator for use by the congregation and all associated organisations will be dedicated on Sunday 24th November 2013 in memory of the late John Cromie.
A Sudden Cardiac Arrest (SCA) can strike anyone, anywhere and at any time regardless of age or gender. The HeartSine defibrillator can be used to administer a lifesaving shock to victims of SCA.

In order to facilitate training in use of the defibrillator, can anyone interested in taking part please add your name to the list in the vestibule or contact either Heather Hanna (07734867336) or John Bell (07787807178).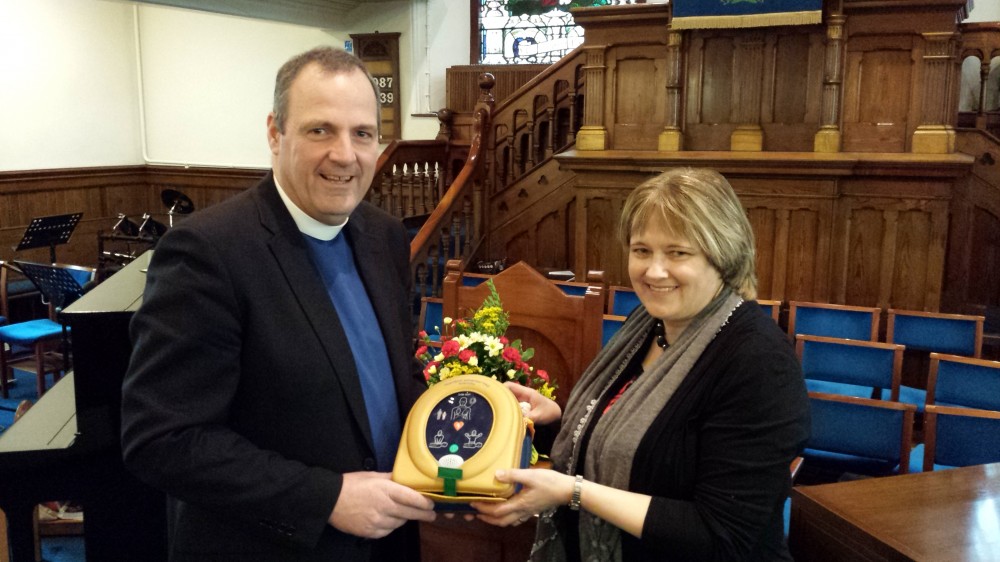 Rev. Trevor Boyd accepting the gift of a Cardiac Defibrillator from Mrs Jacqueline Cromie in memory of
her late husband John Cromie, who passed away last year.

The Committee would like to express their thanks to Jacqueline Cromie and Family for the generous gift of a Defibrillator in memory of her late husband John. This will be placed in the photocopier room in the link alongside a First Aid cabinet.
Minister Profile

So who is Trevor Boyd?
A brief profile of our new minister
the Rev. Trevor Boyd.

Rev. Trevor Boyd
---
Sunday Service

11:30am & 7:00pm

Sunday School

10:00am

If someone has just moved into your street, estate, development and become your new neighbour could you invite them along to church?

Let the Rev Boyd know and he will pay them a visit as well.

---

Church Announcements

Voice from the Pew

Keep in touch

---