Thanks for dropping by. This site exists to compliment the work and ministry of First Rathfriland Presbyterian Church. Please take time to browse the site or better still come and pay us a visit at Newry Street, Rathfriland. Read more
In accordance with Government guidelines on Coronavirus there will be no services or meetings until further notice. Please continue to connect with us on Facebook and Youtube. There will be a Sunday broadcast each Sunday at 11.30am on Facebook and on our Youtube channel. You can request a CD recording or subscribe to our weekly Podcast.
Sunday Morning Service 31 May 2020 available from 11:30am
Business Lunchtime Talk 28 May 2020 available from 1:15pm

---
Our Mission Plan
Jesus said, "A city on a hill cannot be hidden… In the same way, let your light shine before men, that they may see your good deeds and praise your Father in heaven." (Matt 5:14+16) Read more...
---
Listen to the sermons
An opportunity to listen to the sermons conducted in First Rathfriland Presbyterian Church. Listen here
---
Latest News & Event
New Moderator to be installed on 1 June
The Presbyterian Church in Ireland announced today (21 May) that Rev David Bruce will be installed as the denomination's new Moderator on the evening of Monday, 1 June, in a special event, which will be livestreamed from Assembly Buildings in Belfast.
The installation will take place on what would have been the Opening Night of this year's General Assembly. The annual meeting was cancelled last month due to the current Coronavirus emergency and a small 25 person Standing Commission of the General Assembly has been appointed to transact necessary business, including the installation of the new Moderator for the year 2020 / 2021. Traditionally, the service from the historic Assembly Hall, would have been attended by upwards of 900 people from across Ireland, including past moderators, civic dignitaries, and representatives from other churches across Europe, Africa and Asia.
The Installation, which is being livestreamed and can be watched by following the link on the PCI website (www.presbyterianireland.org), will start at 7pm with an introduction and call to worship from the outgoing Moderator, Dr Henry. Read more...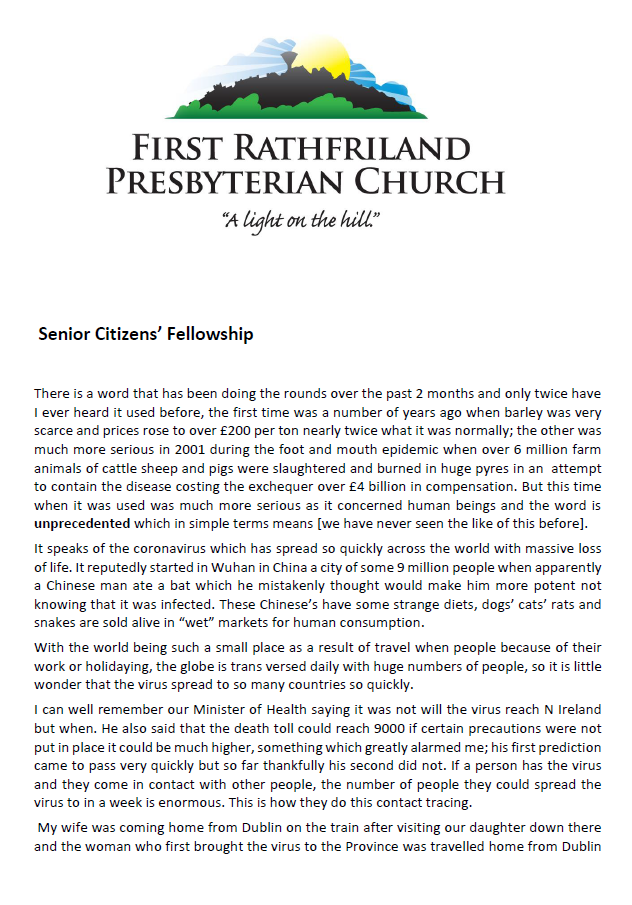 ---
Sunday Service

11:30am & 7:00pm

Sunday School

10:15am

If someone has just moved into your street, estate, development and become your new neighbour could you invite them along to church?

Let the Rev Boyd know and he will pay them a visit as well.

---

Church Announcements

Keep in touch